Why choose Bosworth?
Established in 1977 as a small tutorial college, today Bosworth is a leading independent boarding college in the UK. Our excellent academic results, established university links and caring and supportive ethos have resulted in an enviable reputation. Teaching at all levels is characterised by enthusiasm and passion and we pride ourselves on being a non-selective college with a proven record, both locally and overseas, for raising students' aspirations.
Bosworth has over 310 students with each one looking forward to fulfilling their individual academic potential. With a diverse nationality mix each year, Bosworth students regularly find themselves working alongside classmates of different cultural, social and religious backgrounds. This ensures that they leave the College as well-rounded individuals with an excellent opportunity to succeed in the wider world. Bosworth can offer the breadth of knowledge and experience required for students to excel.
Providing academic programmes for ages 14-19, Bosworth ensures a customised timetable is in place for each and every student. There are very few restrictions on subject combinations at GCSE and A-level and, with average class sizes of eight, each student gets the individual attention they require to reach their academic potential. As the College builds on its successful past, it looks forward to the future educating British, European and international students within its Culture of Achievement.
Bosworth Values
Our aim is to nurture and educate every student in our community whatever his or her ability, culture, ethnicity or social background. We seek to encourage each student to grow in confidence, to cultivate a life-long curiosity for the world around us, to communicate with enthusiasm, work collaboratively and contribute to our community with commitment and creativity. We aim to promote academic excellence tempered by care and concern for those around us.
Principal's Message
"It's the people who make Bosworth Independent College unique. The students, teachers and staff work together as a team to ensure we attain the very best academic outcomes within a caring, secure and happy environment. We offer structure balanced with flexibility, guidance tempered with understanding and relentless encouragement, offered with warmth and optimism. Each member of the college should feel valued and respected as we learn and grow together.
Our students share the high and realistic aspirations we have for them whilst contributing to the well-being of our whole global community. We enjoy a rich and diverse identity in which we promote excellence and celebrate individual achievement, including fun and originality. Our students do well within a nurturing and compassionate environment which is full of positives.
I very much hope that you have the opportunity to visit Bosworth Independent College. I'd love you to experience our welcoming atmosphere in which students thrive."
Fiona Pocock MA PGCE
Principal
College Life
Bosworth Hall and three of our supervised boarding houses overlook a five-acre park called The Racecourse. It is ideal for outdoor sports with football being the most popular. In the same vicinity, we have use of a sports hall where, in the evenings and at weekends, students can participate in a number of indoor sports: badminton, basketball, volleyball, table-tennis and 5-a-side-football.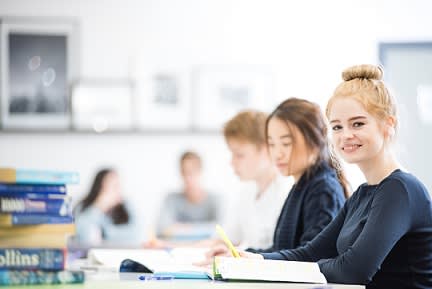 Each week we provide an enrichment session and students can elect to participate in a range of different activities. These vary each term but include activities such as yoga, football, photography, art, cooking, knitting, Mandarin, bead craft, running, yoga, debating, guitar playing and chess.
Bosworth's Student Council are heavily involved in arranging the Winter and Summer Balls as well as organising annual fundraising events. Those that take part in the Student Council have a lot of fun. Other evening and weekend activities are on offer for students to join in and these include rock school, pilates, self-defence classes as well as Saturday trips to areas of interest in the UK e.g. Oxford and Cambridge.
We can arrange individual music lessons in College for a variety of different instruments from beginners to diploma level. Grade examinations can be organised at the Northampton School of Music. Rock School students also always perform at the Christmas and summer concerts, along with any other talented students who wish to take part.
Every year new events and activities evolve; these are very often driven by the interests of new students who are encouraged to stand for election to the Student Council. Our website provides further details regarding student activities and events we hold or participate in.
A-level Results Day 2017
We are delighted to report this year's results have yet again outperformed the UK national average with 74.6% achieving A* to B grades and 89.4% achieving A* to C grades.
Fiona Pocock, Principal at Bosworth states,
"We're delighted that so many of our students have received such gratifying outcomes as a result of their hard work, not forgetting their parents' support and the guidance of the team here at Bosworth. We experienced an exceptionally anxious wait this summer because it was the first cycle using a revised specification in many subjects, notably sciences. It is a testament to the dedicated planning by our teachers and the exceptional determination of our students that the results are so very pleasing. We are bursting with pride and just a little relief too!"
We are so proud all of all our students who can now move to the next stage of their academic careers where we wish them continued success and curiosity to keep learning. We know we can rely on them to represent us well.
Locations
Northampton
Address
Nazareth House
Barrack Road
Northampton
NN2 6AF
Northampton
,
England
,
United Kingdom