WELCOME TO ABBEY ROAD INSTITUTE.
Abbey Road Institute is the training ground for the next generation of music producers and sound engineers.
By harnessing the expertise and innovation created at Abbey Road Studios and collaborating with experts in industry we teach a professional one-year Advanced Diploma in Music Production & Sound Engineering.
We work closely with engineers and producers to create a broad, hands-on and cutting-edge curriculum. This prepares our students to launch a career in the music industry as unique as they are. What unites our students and team is a love of music and a passion to create.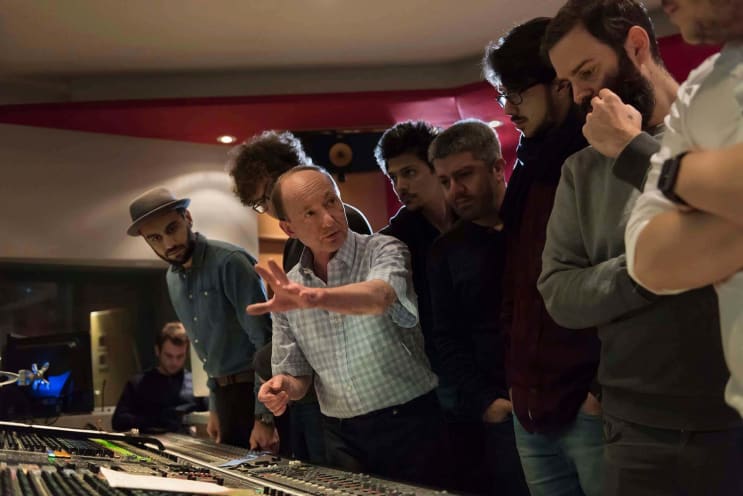 CARVE YOUR MUSIC PRODUCTION AND SOUND ENGINEERING CAREER WITH US.
Our students learn from creative cutting edge producers, technical experts, business professionals and established and experienced names across the music industry. Choosing to study at Abbey Road Institute is a life-changing decision and a once in a lifetime experience.
Our graduates are the future of the music and recording industry.
A LOOK INSIDE OUR STUDIO
Our flagship school, Abbey Road Institute London, based at Abbey Road Studios in North West London, launched in September 2015. The school is integrated into the Abbey Road Studios building and offers our students a dedicated teaching space and bespoke studio space to work in 7 days a week. We're proud to host our school in a dynamic teaching space which supports all areas of the course. You'll work with top of the range, industry standard equipment in our professional studios.
Overview of the space
Throughout the course you'll have access to both our teaching and commercial studios at different stages, depending on the modules you're working on. Our purpose-built facilities include a live recording space and professional-standard control room, two production rooms, a mixing room and a lecture room with individual workstations.
Students have access to the Institute's studio both as part of the timetabled teaching as well as outside class time for independently managed recording, production and mixing. Every student has access to a powerful computer workstation available before, during and after class.
You can start your project in the studio and continue recording, editing and mixing on the classroom workstations or the production suites or mixing rooms. Abbey Road Institute students can be sure they are learning on the very best industry standard equipment in the classroom and studio. Our studios feature a wide array of software and hardware allowing for various hybrid setups which are both practical and suitable for the modern day audio production environment.
Practical time is allocated on an individual basis and fully supervised by our qualified staff. Practical sessions can be booked by students on a weekly or monthly basis during the operating hours of the Institute. There is no limit to the amount of practical time a student can book during his/her course, subject only to availability.
Locations
London
Abbey Road Institute
Address
Abbey Road Institute London
Abbey Road Studio
3 Abbey Road

NW8 9AY
London
,
England
,
United Kingdom