Please check out our e-brochure!
Welcome, International Students!
Olympic College is a two-year public college in Washington State that offers more than 70 different degrees and certificates in academic transfer and professional-technical programs. The campus in Bremerton is located on a 33-acre site framed by views of the Olympic Mountains, Mt. Rainier, saltwater inlets, and the Cascade Mountains. The city of Bremerton is a safe community and the ideal home base from which to explore and experience the West Coast With regular ferry service to Seattle, which is less than an hour away, Bremerton offers the perfect opportunity to enjoy the small town atmosphere with all of the excitement and perks of the culturally diverse city of Seattle. Why Choose Olympic College? 1. Personal attention and small classes 2. Affordable tuition and homestay 3. Residential hall available on campus 4. Conveniently located close to Seattle 5. TOEFL not required 6. Intensive English Program 7. Free conversation partners 8. International Student Club 9. On-campus employment 10. 4-and 6-week summer sessions of Intensive English 11. Guaranteed university transfer admission to designated 4-year universities 12. Small international student population provides opportunities to speak English 13. Opportunities to get involved in campus life and make lifelong friends Please check out our e-brochure! Olympic College educates more than 13,000 students a year. Founded in 1946, the college has three campuses in Bremerton, Poulsbo, and Shelton and serves a population of 280,000 residents living in Kitsap and Mason Counties.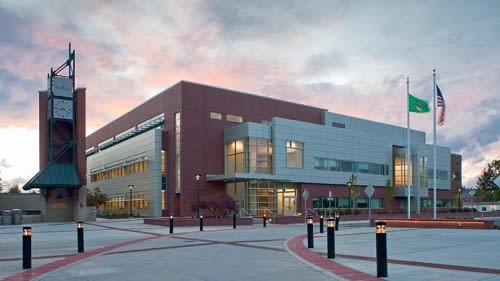 Degrees and Certificates Olympic College helps students build skills for the next phase of their life or career through its numerous educational options. Students can earn a certificate or an associate's degree, or complete the first two years of a bachelor's degree. Students who wish to complete a bachelor's degree locally can opt for the Bachelor of Science in Nursing, Bachelor of Applied Science in Information Systems, or Bachelor of Science in Mechanical Engineering degrees now available at the Bremerton campus or choose to transfer to one of the universities that are co-located at the Bremerton or Poulsbo campuses. In addition, OC offers courses to update job skills, get job training, or simply as personal enrichment. Students achieve many of their personal and professional goals by attending Olympic College. In recent years, the college has undergone many changes, including the construction of a new Humanities and Student Services building at the Bremerton campus and the expansion of services at its Poulsbo and Shelton campuses. Tuition & Typical Costs : Non-resident
Tuition/Fees $4,053
Books/Supplies $1,095
Other $3,355
Room/board $9,828
TOTAL $18,231


Olympic College has Transfer Admission Guarantees (TAG) with several partner institutions. International student applicants who apply for the college transfer program can choose one of our partner institutions to consider them for an admission guarantee. Applicants who are accepted to Olympic College will receive both an admission letter from us and a Transfer Admission Guarantee from the university they have selected. The student must complete the Associate's Degree at Olympic College with the required GPA in order to fulfill the conditional offer. The GPA requirements are obtainable by most international students. In fact, the highest requirement is a 3.25 (B) average

Locations
Bremerton
Olympic College
Address
Olympic College
1600 Chester Avenue
98337-1669
Bremerton
,
Washington
,
USA