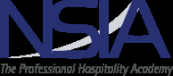 NSIA - The Professional Hospitality Academy
Home ›
NSIA - The Professional Hospitality Academy
NSIA is a part of ACG's vocational colleges; we are a provider of quality educational services. We are a Category 1 award-winning hospitality and cookery academy that has been providing the industry with highly skilled graduates since 2001.
Based in central Auckland, we provide students with a multi-resource environment with state-of-the-art facilities to enhance the future success of our students. We aim to achieve global excellence in the sustained preparation of students for the futures they aspire to.
NSIA is an NZQA-approved education provider offering a range of qualifications at Levels 3, 4 and 5 over the three disciplines of cookery, baking and hospitality. The qualifications we offer are of excellent quality, and our graduates are highly regarded in the industry. As a hospitality student at NSIA you will be taught by skilled and dedicated tutors who will prepare you to enter the hospitality industry. You will be able to tap into NSIA's industry links, which will prove invaluable when seeking employment after graduation.
Locations
Auckland
NSIA, Symonds Street Campus, Auckland CBD
Address
100 Symonds Street
1010
Auckland
,
Auckland
,
New Zealand
Auckland
NSIA, Hobson Street Campus, Auckland CBD
Address
Hobson Street Campus 171 Hobson Street,
1010
Auckland
,
Auckland
,
New Zealand