The Humboldt-Institut
In the past 40 years, more than 60,000 students from over 160 countries studied German with the Humboldt-Institut. This makes the Humboldt-Institut one of the largest and most experienced providers of German as a foreign language. The aspiration of the Humboldt-Institut has always been to offer the best German courses and to guarantee fast and effective learning for all students. Intensive German language course is offered in 17 locations throughout Germany, of which four — Berlin Mitte, Constance, Lindenberg and Bad Schussenried — are open year-round. The Humboldt-Institut offers German courses for all age groups and language levels.
Class Size
Our classes consist of approx. 10-course participants. With such a small size we want to make sure that individual attention is given to every single person. As we focus very much on the communicative approach of the language, while not neglecting grammar, we ensure to make every student talk and participate vividly by limiting the number of participants per group.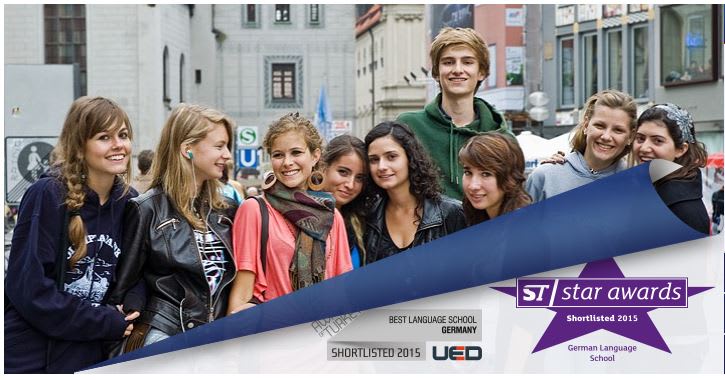 Language Levels
We offer up to 6 different language levels, from total beginners to very advanced, or, according to the European Framework of Reference, levels A1-C2.
Schedule
During an intensive course, our adults have 5 lessons of 45 minutes each morning, starting at 8.30 a.m. and running until 1:00 p.m., including two breaks. On Monday afternoon, there will be one lesson from 2.15 p.m. until 3.00 p.m. On Tuesdays and Thursdays, there will be two lessons from 2.15 p.m. until 3.45 p.m.
Tests
All course participants take a weekly exam which covers all the course content taught the preceding week so that students and teachers alike can assess the progress made in the German language. At the end of a level, there will be an additional "level exam", which needs to be passed with a minimum of 75% to be able to advance to the following language level.
Homework
Our adults are also expected to do some homework every day, yet they will still have plenty of time for extracurricular activities.
Residential schools
In our residential schools students stay on the same campus where they have their lessons, which has, of course, many advantages for our course participants: they have all meals together, spend the afternoons, evenings and weekends together and hence it is very easy for them to make a lot of new friends from different countries in a short time.
Practice German all day long
Our staff will try to create a feeling of being one big international family at the Humboldt-Institut, where all students are integrated, and where German is the only language spoken. Having a chance to practice the target language all day long, even outside of the classroom, will speed up the learning process incredibly, and increase the motivation of the students.
Locations
Berlin
Humboldt-Institut e.V. (Berlin)
Address
Invalidenstrasse 19
10115
Berlin
,
Berlin
,
Germany
Konstanz
Humboldt-Institut e.V. (Constance)
Address
Mainaustrasse 172
78464
Konstanz
,
Baden-Württemberg
,
Germany
Lindenberg im Allgäu
Humboldt-Institut e.V. (Lindenberg)
Address
Humboldt-Institut e.V.
Ellgasser Str. 42,
Lindenberg im Allgäu
88161
Lindenberg im Allgäu
,
Bavaria
,
Germany
Bad Schussenried
Humboldt-Institut e.V. (Bad Schussenried)
Address
Humboldt-Institut e.V.
Zellerseeweg 11
Bad Schussenried
88427
Bad Schussenried
,
Baden-Württemberg
,
Germany