About Us
The pilot's profession is constantly evolving. As it does, the requirements of a pilot are changing, too. And, in response to this, the training a pilot receives is also taking on a new character, becoming increasingly independent, flexible, mobile, and digital.
It is to meet these new and changing needs that we have created the European Flight Academy, which unites all the flying schools of the Lufthansa Group under a single roof. With our innovative training concepts and our interdisciplinary approach, we combine all the various strengths of our group member companies.
In doing so, we strive to give all our trainees the best possible prospects for a career as a pilot at one of our member airlines. And, on a broader note, we aim to ensure that the European Flight Academy plays a major role in the further development of the pilot's profile and profession.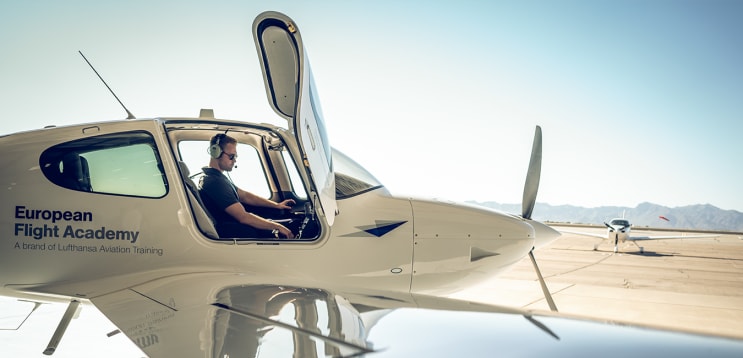 European Flight Academy - Facts and figures
The flying school of the Lufthansa Group
All the Group's former flying schools – Lufthansa Flight Training, Swiss AviationTraining and the Pilot Training Network – under one roof
All training in accordance with the Lufthansa Group's high quality standards
Training concept leading to either the Multi-Crew Pilot License (MPL) or the Airline Transport Pilot License (ATPL)
Seven flying school locations in Switzerland, Germany, and the United States
A fleet of over 50 advanced training aircraft
Access to the Lufthansa Aviation Training full-flight simulator fleet
Our expertise - We're equipped for your success
Over 60 years of experience in airline pilot training
All training to the top quality standards of the Lufthansa Group
Management, trainers and instructors with extensive airline pilot experience
Constant knowledge transfer with the airline flight operations of the Lufthansa Group, including a strongly line-oriented pilot training approach
Your benefits - How we help you to "your controls
Pilot training at the highest quality levels
Training to all the standards required by the airlines of the Lufthansa Group
Optimum prospects of securing a highly-qualified position in a Lufthansa Group airline cockpit or pursuing an international airline pilot's career elsewhere
Exclusive access to the Lufthansa Group's internal job market
Professional advice and jobsearch assistance from our EFA Career Support
Comprehensive student support throughout your time with us
Housing assistance at all our flying school locations, so you can focus on your training
Locations
Bremen
Address
Flughafendamm 40, 28199 Bremen, Germany
Bremen
,
Bremen
,
Germany