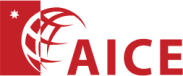 Australian International College of English
Home ›
Australian International College of English

Welcome to AICE
AICE is an ideal place to study and make friends as we have a supportive staff and great facilities to make your experience here enjoyable. What makes our College different? We are here to help you excel on your chosen path to perfect your English. That is why our theme is 'English for Excellence'.
The Australian International College of English (AICE) upholds its mission to provide quality education in all of its programs from High School Preparation to Preparation for IELTS. Not only that, the College believes that happy, successful and fully supported teachers deliver top quality lessons. This reflects on the quality of the learning and the overall culture of the college. State-of-the-art premises, well-trained and qualified teachers and an extensive range of activities add up to happy successful students. Join us to excel in English.
Susan M Scott, Director of Studies
About Sydney
Sydney is one of the most spectacular cities in the world. It offers exciting arts, cultural and natural environments to explore including the world famous Sydney Harbour. There are many events throughout the year such as the Light festival, Vivid Sydney, as well as our impressive New Year's Eve and Chinese New Year celebrations.
Sydney is home to iconic landmarks including the Harbour Bridge and the world-famous Opera House. Did you know we have an average of more than 230 sunny days a year? Sydney's famous Bondi Beach is just one of the seaside attractions. Take the time to experience the beauty of other beaches such as Tamarama, Bronte, Maroubra and Clovelly in Sydney's east and Southern Sydney's Cronulla beach.
Also, you can visit lush national parks, local vineyards for spectacular sightseeing, climb the breathtaking Harbour Bridge, and go for a bushwalk in the World Heritage region of the Blue Mountains. Sydney is proud to provide students with quality educational opportunities. We have excellent facilities and we endeavour to give students a wonderful experience while enjoying Sydney's great lifestyle.
Why AICE?
Located in the city centre near transport, entertainment and shopping.
Vibrant Campus Environment
A modern school with up to date amenities and facilities.
AICE English has pathways to your study goals, schools, universities and colleges.
Academic Excellence and Support
Caring and friendly staff are available to help you with all your study needs.
Meet Students from All Over The World
Participate in our social events so that you can practice English outside the classroom.
Small classes are taught by highly qualified teachers who want to take you to your next level of English.
Our Campus
AICE's or the Australian International College of English's Campus has been well appointed to ensure that you have a great learning experience. Each classroom has been designed to ensure students can learn and interact in comfort.
Not only that, AICE is located in the heart of the Sydney Central Business District. It is just a short walk from bus and tram stops as well as Central, Museum and Town Hall stations. A major shopping centre is just two minutes' walk from the Campus.
Bright and air-conditioned classrooms.
Student library in Student Lounge area.
Free WiFi access throughout the Campus.
Reception staff available to assist you from Monday to Friday.
Computer room with free internet access.
Cafes, restaurants and a food court located close by.
A kitchen area with a refrigerator and food vending machines.
Location
In the heart of Sydney's CBD close to shopping centres and Darling Harbour.
International food courts, restaurants and cafes.
Minutes from cinemas and entertainment.
Free wi-fi.
Campus
Modern classrooms with natural light.
Student lounge and common room.
Kitchen and lunch area.
Computer Lab.
Learning Pathways