Program Description
The Campus Language School courses for foreigners are created to make the student acquire an Italian that is useful in everyday life and in the professional world.
THE TEACHING STAFF
The teachers are all graduates, having a high level of professionalism and teaching expertise. The methodology used is advanced and combined with personalized assistance and tutoring.
THE PERSONALIZATION OF THE EDUCATIONAL PROGRAMS
- Preliminary analysis of language skills with a free level test. - Creation of ad hoc programs based on student needs. - Personalised programs based on the student's proficiency level and lessons focusing on specific topics involved in both everyday life and on the job. The course, available for all levels, is set up to meet the particular needs of each student with the maximum flexibility regarding lesson assignment and content. The total duration of the course can vary depending on the objectives to be reached. - Course start up: at the student's discretion - Duration and weekly frequency: No. of lessons at the student's discretion – 2-hour lessons.
Last updated Jan 2018
About the School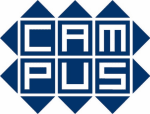 The Campus Language School was founded with the aim of supplying to all those wishing to acquire the knowledge of a foreign language, a competitive instrument in an
The Campus Language School was founded with the aim of supplying to all those wishing to acquire the knowledge of a foreign language, a competitive instrument in an
Read less