CEH Certified Ethical Hacker v9 (INCLUDES EXAM)
Home ›
CEH Certified Ethical Hacker v9 (INCLUDES EXAM)
Program Description
√ This course is rated in the Global Top 5 "Top Paying Security Certifications"!
Adept is a global training company started in 2004 which has now expanded across the globe, certifying over 100,000 professionals! We have been conducting Training & Certifications for 11 years, and are full training institutes, courseware providers, and examination centers. Our classroom in Dubai is conveniently located in Knowledge Village – in the heart of the city. We are easily accessible by public transportation and can also assist you with accommodation or lunches if needed.
Included in the Course
4 days Training with CEH Expert Trainer
EC-Council e-Kit with Course Materials
Certificate of Participation
Official Certification from EC-Council
Exam Fee is Included
98% Exam Pass Rate
Tips & Tricks to pass the exam
Pass Guarantee* - If you fail on the first attempt, a 2nd exam is free of charge
Overview
The Certified Ethical Hacker program is the pinnacle of the most desired information security training program any information security professional will ever want to be in. To master the hacking technologies, you will need to become one, but an ethical one! The accredited course provides the advanced hacking tools and techniques used by hackers and information security professionals alike to break into an organization. As we put it, "To beat a hacker, you need to think like a hacker". This course will immerse you into the Hacker Mindset so that you will be able to defend against future attacks. The security mindset in any organization must not be limited to the silos of a certain vendor, technologies or pieces of equipment.
________________________________________
Benefits
When you are a Certified Ethical Hacker, you are more than a security auditor or a vulnerability tester or a penetration tester alone. You are exposed to security checklists that will help you audit the organization's information assets, tools which will check for vulnerabilities that can be exploited and above all a methodology to assess the security posture of your organization by doing a penetration test against it. In short, the knowledge you will acquire has practical value to make your work place a more secure and efficient one. The goal of this course is to help you master an ethical hacking methodology that can be used in a penetration testing or ethical hacking situation. You walk out the door with ethical hacking skills that are highly in demand, as well as the internationally recognized Certified Ethical Hacker certification! –
What's new in CEH Version 9?
Focus on new attack vendors
Cloud security
Mobile platform and tablet threats
Latest developments in web & mobile threats
New vulnerabilities are addressed
Heartbleed
Shellshock
Poodle
Cryptography Case Study
Performing hacking using mobile phones
Latest trojans, hacking, and backdoors
New security laws and standards
More than 40% new labs and over 1500 new tools are added
Security issues with new operating environments and updates to Windows
Who Should Attend
The Certified Ethical Hacking training course will significantly benefit security officers, auditors, security professionals, site administrators, and anyone who is concerned about the integrity of the network infrastructure. ________________________________________
Advantage with Adept
Adept is a global training company with offices around the world, certifying over 100,000 professionals since 2004. We are a fully-accredited training and certification company specializing in Information Security, Information technology, Governance, Project Management, & Skills Training. Some of our clients include Ernst & Young, Deloitte, HP, IBM, GE, Symantec, Etisalat, Tata Communications, Abu Dhabi Police, and many more. In addition, we can cover a wide range of training requests, including custom and corporate training, with multilingual trainers all over the world.
11 Years of Expertise
100,000+ Certified Professionals
300+ Support Staff
Accredited Training Organization
Accredited Examination Institute
Accredited Courseware Provider
Accredited Faculty
100% Test Pass Guarantee
Efficient pre- and post-training support
Global presence
Miscellaneous
New CEH Version 9!
Classroom Trainings offered frequently in Dubai
We can offer this class as DISTANCE LEARNING from Anywhere in the world!
Enquiring for your company? We fly our trainers to you!
Exam is Included with Pass Guarantee
Official Certification from EC-Council
Training Content tailored to your experience
Last updated Dec 2017
About the School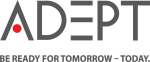 Adept Technology Dubai is a fully accredited training center and examination provider for IT security. Since 2004, Adept Technology Dubai has certified over 100,000 professionals and been a leading t ... Read More
Adept Technology Dubai is a fully accredited training center and examination provider for IT security. Since 2004, Adept Technology Dubai has certified over 100,000 professionals and been a leading training provider for several Fortune 500 companies, governments, and SMEs.
Read less